The Department of Medicine is the largest clinical department at Flushing Hospital and provides an impressive staff of attending physicians. Comprised of 14 divisions, the department specializes in the prevention, diagnosis and treatment of all types of medical illness.
Allergy & Immunology
The Division of Allergy & Immunology focuses on the diagnosis and long-term treatment of allergies and respiratory illnesses such as asthma and hay fever. Consultations are also available for individuals who experience allergic reactions to medications and other substances. 
Cardiology
The Division of Cardiology boasts a full-service, state-of-the-art non-invasive Cardiology Lab. The laboratory provides two-dimensional color echocardiography, trans-esophageal echocardiography, stress echocardiograms, tilt table testing and Holter monitoring services. In addition, there is a Certified Heart Station and dedicated Coronary Care Unit prepared to treat cardiac emergencies. 
Critical Care Medicine
Board certified intensivists provide consultation services and utilize the most advanced invasive and non-invasive techniques in a modern, state-of-the-art facility.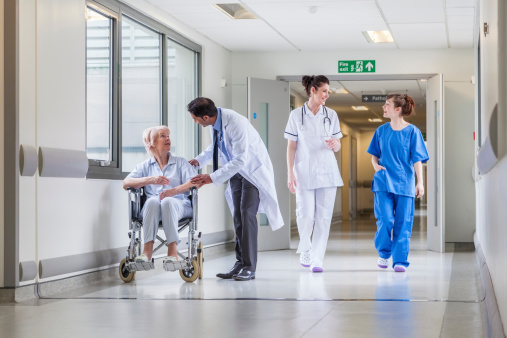 Endocrinology
Consultation services are provided to patients with diabetes, thyroid disorders, osteoporosis, and diseases of the pituitary, adrenal and reproductive systems. The division also consists of nurses who specialize in diabetes care.
Gastroenterology
Flushing Hospital provides full gastroenterology services to patients. 
Geriatric Medicine
The Center for Acute Geriatric Medicine operates a 30-bed acute inpatient care unit that specializes in the care of patients with geriatric problems. The unit's staff is specially trained and educated to meet the physical, nutritional, and psycho-social needs of geriatric patients. A comprehensive range of services, including an enrichment program where supervised therapeutic activities are offered. A Geriatric Clinic is held weekly at Flushing Hospital' s Ambulatory Clinic on Fridays from 9 a.m.-12 p.m.
Infectious Diseases
The division of Infectious Diseases manages the diagnosis and treatment of patients suffering from communicable diseases, such as influenza and meningitis.
Nephrology
Board certified nephrologists, professional nephrology nurses, certified social workers, a registered renal nutritionist and technical supervisor make up the Division of Nephrology at Flushing Hospital. The division has a four-station inpatient dialysis unit, available to provide dialysis services to patients with acute and chronic renal disease. More specifically, Flushing Hospital offers the following services: continuous cycle peritoneal dialysis (CCPD) training for home treatment of dialysis patients, kidney biopsy with CAT scanner, and renal artery balloon angioplasty.
Neurology
The Division of Neurophysiology is available to provide diagnostic testing to adult and pediatric patients with neurological diseases.
Oncology
The Oncology Division offers consultations to patients diagnosed with cancer. An Ambulatory Chemotherapy Unit, staffed by compassionate and specially trained nurses, is available for the administration of chemotherapy and blood products. 
Pulmonary Medicine
Pulmonary Medicine's pulmonary function laboratory uses the latest equipment to diagnose and treat patients experiencing breathing abnormalities and acute and chronic lung disorders.
Rheumatology
in-house consultations are provided for patients with rheumatological disorders including osteoarthritis and osteoporosis. The Division of Rheumatology offers outpatient clinical services and bone mineral density testing two times per month.