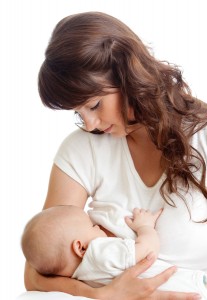 Flushing Hospital has recently joined "Latch On NYC," a new city-wide initiative aimed at supporting breastfeeding mothers. By joining the initiative, the hospital will no longer voluntarily distribute formula, literature on formula, or other products that promote formula to new mothers unless it is medically required or at a mother's request.
"Latch On NYC" is a wonderful initiative," explained Maria Smilios, MS-ACNS-RNC-OB, IBCLC, Assistant Director of Nursing-Maternal Child Services at Flushing Hospital. "Our hospital has always encouraged new mothers to breastfeed, however, we, like many other local hospitals, would provide our new mothers with go-home bags that included formula, which sent mixed messages." Ms. Smilios added, "Now, we can educate mothers about the benefits of breastfeeding and feel confident that they have the information they need to make an informed decision about their infant's dietary needs."
According to the New York City Department of Health, breastfeeding can prevent childhood and adult obesity and reduce the risk of ear infections, diarrhea, and pneumonia. And while 90% of NYC mothers begin breastfeeding, only 31% of mothers are still exclusively breastfeeding their child by the time they reach two months, even though it is recommended that an infant exclusively breastfeeds for the first six months of their life.
"Latch on NY" is one of several efforts Flushing Hospital has recently taken to encourage mothers to breastfeed. Earlier this year, the facility received a "Communities Putting Prevention to Work" grant for its commitment to support breastfeeding and help reduce childhood obesity. The grant allowed staff members to become Certified Lactation Consultants. The hospital has also applied to become a "Baby Friendly" hospital, a global initiative that promotes, protects, and supports breastfeeding through ten steps to successful breastfeeding. The hospital also boasts an active breastfeeding support group.
Breast milk is best for babies and Flushing Hospitals is not afraid to say it, or show it. For more information on Flushing Hospital's Latch On Program, or our division of Maternal-Child services, please call 718-670-8992.