The Radiology Department at Flushing Hospital offers a wide variety of advanced, state-of-the-art diagnostic and imaging services to its patients. One of the ways they are able to do this is by offering the latest and most advanced imaging technology.
Through the acquisition of the Siemens MAGNETOM Skyra 3T MRI scanner, Flushing Hospital now provides one of the most sophisticated and technologically advanced machines in healthcare.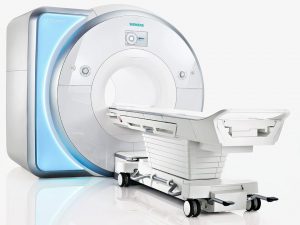 Like Flushing's previous MRI machine, the new model features an open-bore design, with an extra wide patient tube to accommodate larger patients. The larger size also increases comfort levels and decrease feelings of claustrophobia for all patients. The open-bore feature results in fewer patients requiring sedation and provides overall higher patient satisfaction.
Another benefit of the new MAGNETOM Skyra is its advanced imaging capabilities. Equipped with a 3T magnet, it provides the most accurate, high-resolution images and delivers them in less time. The Zero Helium boil-off feature and the Green Cooling package also make the new MRI machine more environmentally friendly and energy efficient.
This new technology compliments Flushing Hospital's team of Board Certified and fellowship-trained radiologists and highly-trained, experienced technologists. The department is fully accredited by the American College of Radiology (ACR), which signifies a higher quality examination and care.