2016 was a big year for the Perinatal Care Department at Flushing Hospital Medical Center.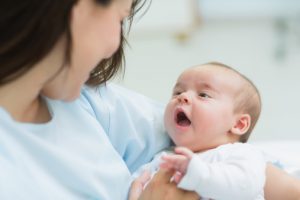 That's because last year the hospital topped 3,000 deliveries – a major milestone for the department as it is the first time in over 25 years that Flushing Hospital has surpassed that mark. In fact, a total of 3,126 babies were born last year at Flushing Hospital!
Historically, Flushing Hospital has always been a destination for women in Queens to give birth. At its peak in the mid 1980's Flushing Hospital delivered over 4,200 babies annually. That number had slowly declined to a low of only 1,500 deliveries approximately a decade ago. However, in recent years the hospital has seen a steady increase, culminating with it reaching this major milestone.
There are many reasons for the baby boom at Flushing Hospital according to Maria DeMarinis Smilios, Director of Nursing for Maternal and Child Services, "We have done many things to improve the services we provide to expectant mothers. We have made ourselves more accessible to the community by expanding perinatal evening hours twice per week. We have also added an on-site WIC program and expanded our family planning services. In addition, we have brought in many doctors and support staff that speak multiple languages and are reflective of the community we serve."
Maria added, "Our staff has also worked very hard to meet the needs of each of our patients and address every request and concern they have during their perinatal experience. Their dedication to improving our patient's satisfaction is evident as more and more women are once again choosing Flushing."
Flushing Hospital Perinatal Care Department plans to continue the momentum and looks forward to welcoming even more babies into the community in 2017. Plans for the future include expanding the number of private post-partum rooms on the Mother-Baby Unit from two to 11, which will further enhance the patient experience.