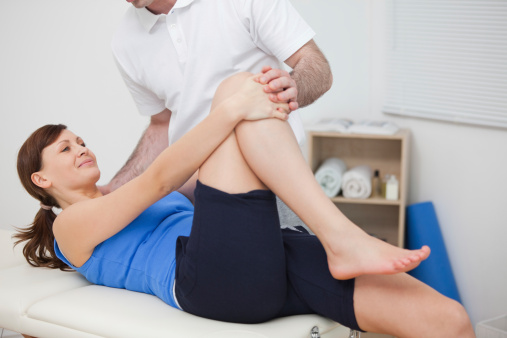 The Department of Physical Medicine and Rehabilitation offers a multi-disciplinary team approach to the medical care of conditions and injuries that affect the brain, nerves, bones, joints, muscles, and ligaments and the disabilities and/or aches and pains that these problems produce, including those from occupational or sports injuries and accidents. The department diagnoses and treats acute and chronic pain syndromes and offers sophisticated and personalized care for both inpatients and those living in the community.
Following an assessment by a physician and a therapist, a personalized program is developed to achieve maximum results and ultimate recovery. This is achieved through the team efforts of the department. A patient's program may involve the use of therapeutic exercise, heat, ultrasound, electrical stimulation, hydrotherapy, and patient education. Various treatment modalities are available to alleviate pain symptoms and complement the treatment program developed. Prosthetic and orthotic services are also provided when necessary.
Speech therapy and swallowing assessments are also performed as needed and audiology services and hearing assessments are conducted for all age groups from newborn to the elderly.
The department is located on the hospital's second floor and is open Monday through Friday, 8:30 a.m. to 4:30 p.m. For additional information about any of its services, call (718) 670-5515.